Capital One Hall's Top Tips for Your Next Corporate Event & Why You Should Book Your Holiday Party ASAP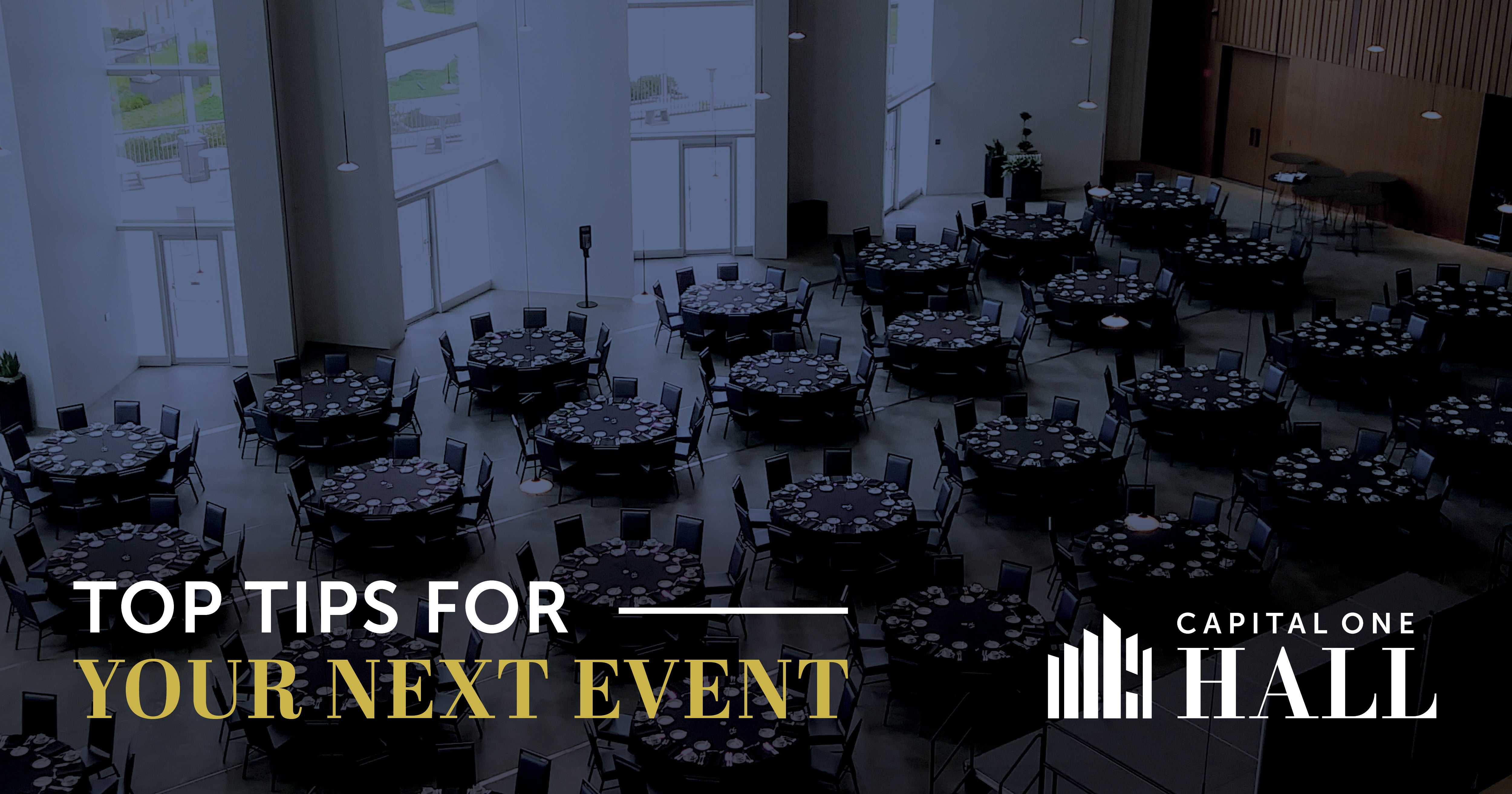 In the year 2022, corporate events have reached a whole new level. Long gone are the days of cramming bodies into a stuffy lecture hall to watch one presentation after another with zero interaction with attendees. Today, events are full of excitement with incredible speakers, delicious food and breathtaking venues, all paired with engaging content that attendees can fully participate in. But how do you make sure your next event is pushing your company forward and not holding it back? We've broken down our top tips to help you host an event that will have your employees talking for months. PLUS stick around to learn why you should book your company holiday party now!
1. Choose a Unique Venue Near Tysons Corner
So frequently, hosts forget the importance of choosing the right venue for their corporate event, and that can be a major mistake. Your attendees will be there for an entire day; you may even have folks traveling to participate, so choose a venue that will wow them, like Capital One Hall! With rooms for every size and occasion, Capital One Hall is here to meet all of your needs with style.
2. Create a Priority List for Your Corporate Event
With the popularity of hybrid and at-home working, many companies are chomping at the bit to get some real-life face time with their teams. While this is absolutely the goal of corporate events, it's also crucial to keep in mind that it may not be feasible to do everything on your list at one event. Review with your team top priorities and focus only on those.
3. Stay Organized With One Master Plan
Once your company's priorities are locked down, create a master plan to keep things on track when the event day arrives. Having one place the team can go to answer their questions and find necessary details will save a major headache down the road and keep things from getting covered twice, or not at all.
4. Engaging Attendees at Your Corporate Event
One of the trickiest but most important components of any event is making sure attendees stay excited and engaged. Be sure to allow time during sessions for interaction, whether that be participation, a live Q&A with in-house experts or even inviting volunteers to come on stage!
5. Incorporate Breakout Sessions
Speaking of engagement, a fantastic way to keep attendees involved with the day's events is to incorporate breakout sessions for discussion and brainstorming. Capital One Hall offers several spaces to allow for smaller groups to meet, such as our Executive Boardroom, so attendees can stay inspired and thoughtful.
6. Include a Keynote Speaker at Your Company Outing
Nothing gets folks excited quite like the prospect of hearing from someone they respect and admire, so having a keynote speaker that knows how to engage a crowd is the perfect way to tie the day together. The Main Theater in Capital One Hall adds to the thrill by letting your speaker take the stage and show their stuff!
7. Network and Relax in One of Our Event Spaces at Capital One Hall
While there will surely be a ton to cover throughout your event, providing dedicated time for attendees to relax and network will do wonders. Giving your guests a chance to make connections in a relaxing environment like the Atrium, will propel engaging conversations while allowing everyone to enjoy a break from the meeting.
8. Wow Your Guests' With Creative Food and Beverage
A well-fed crowd is a happy crowd, and Capital One Hall is pleased to have the culinary designs of Executive Chef Linton Romero at your disposal. With experience overseeing not only food and beverage but execution and more, Chef Romero and his team will surely put together the perfect menu to complement your event and keep your guests ready to participate in every activity.
9. Make Sure to Follow Up Afterward
One of the biggest takeaways for any corporate event is the importance of following up with your team and attendees. A few of the most engaging ways to do this are to share any additional resources the speaker mentioned, send out a survey to find out ways to improve and answer any lingering questions. These will make sure everyone receives the most out of your event and can prepare for your next event!
10. Book Holiday Parties in Advance
If you want to make sure you book the best venue at the best time with the best entertainment…it might take a little extra planning. While you don't have to have every minute planned out before the last leaf falls in autumn, thinking ahead and booking your venue now will definitely help lower stress levels when the holiday season is upon us. Planning pro tip: Capital One Hall hosts the best holiday parties!
For more information about hosting the perfect event at Capital One Hall, fill out this form and let us know.