Gain Insider Access to Tysons' Best Shows as an Usher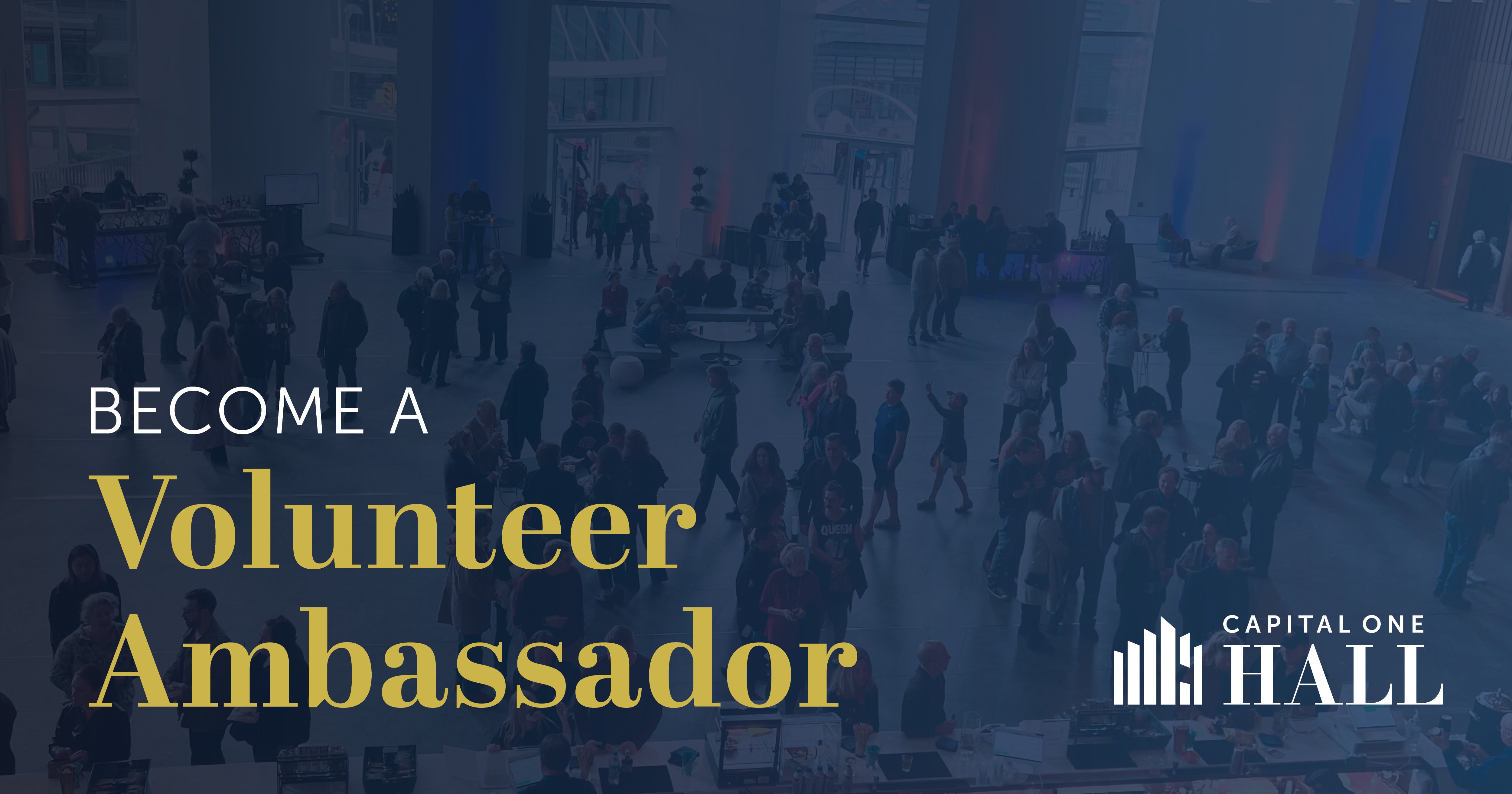 From Leanne Morgan to Toad the Wet Sprocket, the Washington Ballet to Broadway, Capital One Hall in Tysons, VA brings some of the biggest names in the entertainment industry through its doors. And behind each captivating show, there is a top-notch hospitality team of ushers making sure each event runs smoothly.
At Capital One Hall, our ushers are officially called Volunteer Ambassadors, and they are the backbone of the warm, welcoming customer service experience that Capital One Hall is known for.
What is an Usher?
Think about the last time you went to a show. As you arrived at the lobby, you may have pulled out your phone, frantically trying to find your ticket. A friendly face came over and guided you through exactly where to find the right barcode. They showed you where to go, which line to stand in, and scanned your ticket when it was your turn.
Then, as you walked into the performing arts hall, you may have looked around, trying to figure out how C12 translates from ticket to seat. Again, a friendly face arrived just in the nick of time, showing you right to your seat and handing you a program in the process.
This gregarious and helpful front-of-house hospitality is the job of dedicated ushers, who are typically volunteers with a love for music, dance, comedy, and people. At Capital One Hall, ushers assist front-of-house staff by guiding patrons to the right location or to amenities, scanning tickets, escorting audience members to their seats, distributing programs, directing emergency evaluation procedures, and more.
They are friendly, outgoing volunteers who love interacting with the public and sharing their appreciation for the arts.
Three Perks of Being a Capital One Hall Usher
Of course, there are major perks that come with being a Capital One Hall Usher. In the words of one usher, "I get to see awesome shows and I get to help people—and I get to do them at the same time!"
They get insider access to one of the premier entertainment and performing arts venues in the metro DC area, scoring complimentary tickets to select concerts, ballet and dance performances, Broadway shows, family-friendly events, and more. There is incredible local and global talent that comes through Capital One Hall, and ushers have a front-row seat to it all.
Plus, they enjoy free parking and volunteer appreciation events to spend time with other passionate supporters of the performing arts.
Why Our Ushers Keep Coming Back for an Encore Performance
"The people." It's what ushers said again and again when asked why they return to Capital One Hall for two shows a month as a volunteer. One usher, who's done 43 shows, says his favorite part of being an usher is learning the stories of all the other ushers and how they found their way to Capital One Hall. The teamwork among the volunteer ushers is what makes Capital One Hall one of the best places to see a show in the DC area.
And the complimentary tickets to shows are a can't miss bonus! When asked, the 43-show veteran usher replied that his favorite was Josh Groban, the inaugural Capital One Hall Show and one he still looks back on fondly.
Learn How to Become a Capital One Hall Volunteer Ambassador Usher
Want to check out the Capital One Hall Volunteer Ambassador Usher program for yourself? If you're outgoing, friendly, and love flexing your interpersonal skills while sharing your love for music, art, and more, then you could be a perfect fit! Visit our website to learn more and register (event management experience is not necessary!).
Or, if you haven't been to Capital One Hall yet and want to learn what it's all about, check out our upcoming calendar of events here.