Capital One Hall Welcomes The Washington Ballet, BalletNova and Balletto di Milano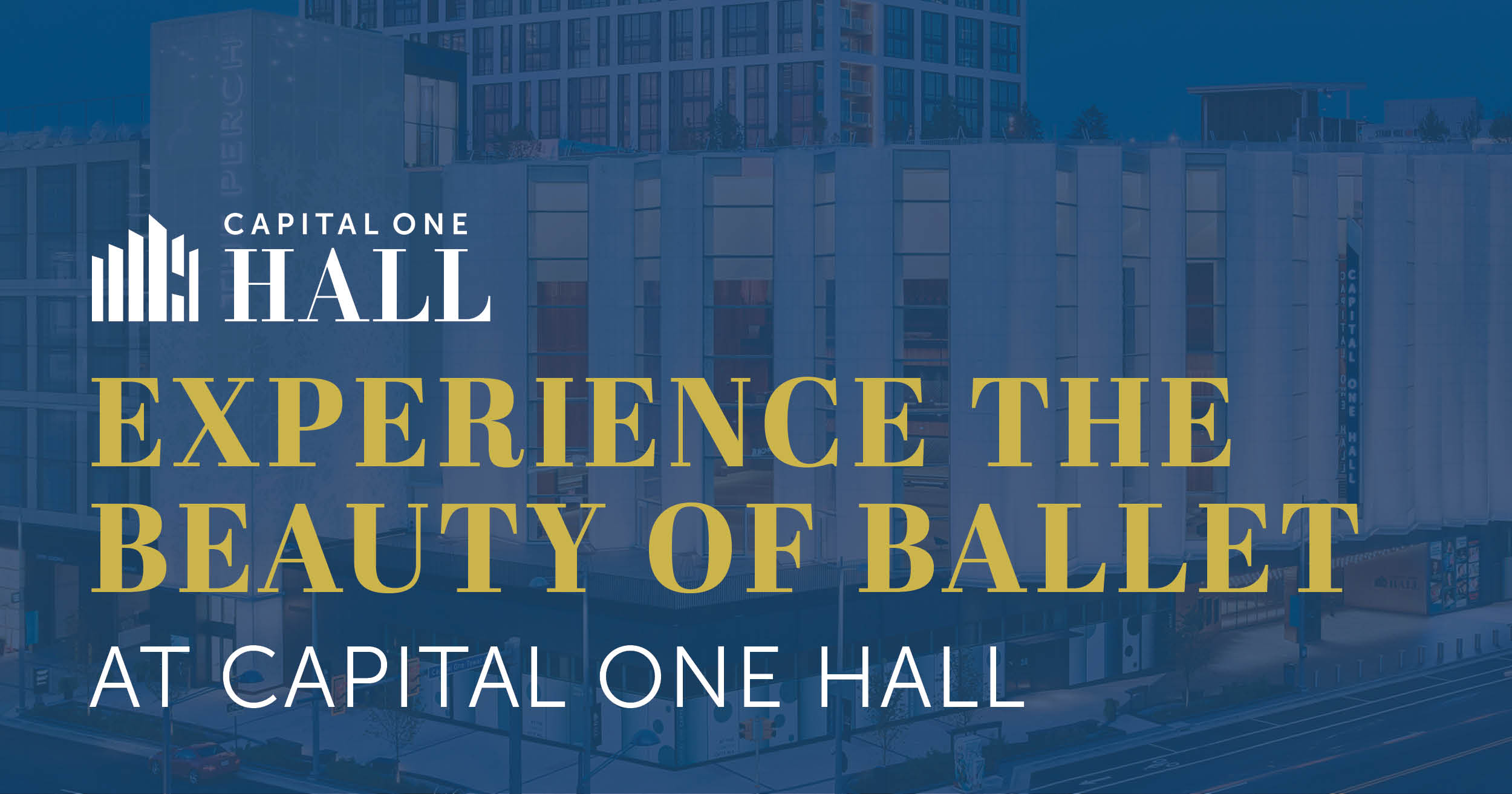 Are you ready to be dazzled by the ballet at Tysons, Virginia's premier performing arts venue? April 2023 brings three exciting performances to Capital One Hall, one a high-energy excerpt from a storied performance beloved by generations of fairy tale fans, the next, a comedic love story featuring vibrant costumes and an intricately designed set and ending with a neoclassical interpretation full of passion and breathtaking choreography.
Whether it's your first ballet or your fiftieth, you're sure to walk away with a renewed appreciation for the talent and artistry of ballet dancers at the highest level.
The Washington Ballet Presents Aurora's Wedding
From April 7-9th, The Washington Ballet (TWB), the flagship ballet company in the Nation's Capital, presents Aurora's Wedding, the captivating Act III of The Sleeping Beauty, and George Balanchine's Theme and Variations. The beloved fairy tale story is set to a musical score by Tchaikovsky and again features the iconic choreography of Petipa. It brings together both the instantly recognizable and timeless staging of the original 1890 The Sleeping Beauty with a dynamic energy that plays to the impressive athletic talent of TWB.
By focusing solely on the visually vibrant third act in this ballet, The Washington Ballet brings the thrill of the celebration that follows the awakening of the kingdom and Princess Aurora and her jubilant marriage to Prince Désiré. "Act III is a joyous celebration of love, hope and beauty. For 90 minutes, the audience will feel transported to another place filled with music, dance, and a feast for the senses. They will feel alive," says TWB's Artistic Director Julie Kent.
Following Aurora's Wedding, TWB will continue dancing to Tchaikovsky and perform Balanchine's Theme and Variations, featuring virtuoso solos, a grand pas de deux and an exuberant polonaise, bringing the entire cast together for a momentous end to the show. Showtime and ticket information is available here.
BalletNova Presents Coppélia
BalletNova will be at Capital One Hall from April 15th-16th for their rendition of Coppélia, and Matthew Powell, Artistic Director at BalletNova, says, "Prepare to be transported to another world. We're bringing fairy tales to life on stage." This comedic ballet was first debuted in 1870 France and brought back following the War of 1870 by 19th century great Marius Petipa. Coming out of a tradition of drama and fantasy, Coppélia preserved the fantastical elements audiences loved in traditional ballet, but incorporated a sense of comedy through pantomime that is still so relevant today it will have the audience chuckling out loud.
With this production, BalletNova, a conservatory in Fairfax that trains dancers at all levels, gives their highest level pre-professional dancers a chance to flex their artistic and creative muscles and perform on a professional level stage.
Throughout Coppélia, 36 BalletNova dancers, plus two guest dancers, one from The Washington Ballet and one from Arena Stage, will entertain the audiences in 28 fast-moving, energetic dances. Constance Walsh, Associate Artistic Director at BalletNova, emphasizes the visual storytelling that's made possible through their amazing costume mistress and an incredible troop of volunteers who dedicate their time to building a set that takes the dancers and the audience into another world. In Coppélia, that set includes a toy shop and mechanical dolls that truly transform Capital One Hall into a world of fantasy and comedy.
For those attending the show, Powell offers a hint at what's to come, "In Coppélia, love prevails in the end, but hysterical hijinks happen in between!" Showtime and ticket information is available here.
Balletto di Milano Presents Ballet Carmen
For one night only, on April 26th, Balletto di Milano presents Carmen the ballet, based on the novel by Propser Marimet. As one of the leading professional Italian companies, Balletto di Milano interpreted Carmen in an exclusive neoclassical version. Spectators will be engaged in a drama full of poignancy, intensity, and feeling of inevitability.
Set to the music of Georges Bizet, the choreography features the famous Habanera and involves many ensemble dances. Creativity is on display at this ballet, from the beautiful costumes designed by Italian designer Federico Veratti to the stage set, commonly recognized as one of the most striking in theater.
Since 1998, Carlo Pesta has been at the helm of Balletto di Milano as the President and Artistic Director. Carmen is directed by Marco Pesta and has two 45-minute sections. Show and ticket information is available here.
Who Should Attend the Ballet at Capital One Hall?
Both Aurora's Wedding and Coppélia are wonderful choices for an all-ages ballet, as long as a child is ready to sit through the ballet, while Carmen is better suited for a more mature audience. There's no limit to who can enjoy the beauty of the dance, the set, and the costumes, and an introduction to a jubilant ballet like these could spark a lifelong love of the arts.
What Should You Know Before Attending Your First Ballet?
Get ready for a feast of the eyes! Attending the ballet is a visual experience that doesn't require you to know your pas de deux from your adagio. You can go in with no prior knowledge and still leave with a new appreciation and excitement for a centuries-old art form.
But, whether you're attending a ballet that has familiarity across the cultural lexicon, or opting for a performance less commonly known, it's worth reading through the synopsis in the program. This is a thorough summary that can either familiarize you with a new-to-you story or give you an insight into an old tale that you didn't already have.
ArtsFairfax and the Ballet in Tysons
To bring ballet to more people across the DMV, ArtsFairfax presentes the opportunity for companies like BalletNova to showcase ballet at Capital One Hall. This partnership facilitates specially negotiated rates for Fairfax County-based nonprofit arts and culture groups, as well as arts-related programming by Fairfax County agencies and Fairfax County Public Schools. These organizations are invited to use Capital One Hall's spaces for performance, rehearsal, and other arts activities, and ArtsFairfax has brought more than 23 organizations to the stage in its first season alone, allowing more than 10,000 patrons to enjoy the arts, including ballet, in Tysons, VA.
For more information on Capital One Hall's upcoming events and to purchase tickets, visit us here. For a seamless arrival experience, we encourage you to pre purchase parking. Learn more about the two parking options and find out which is right for you here.