Capital One Hall Parking 101: Plus, Should You Buy Premium or General Parking?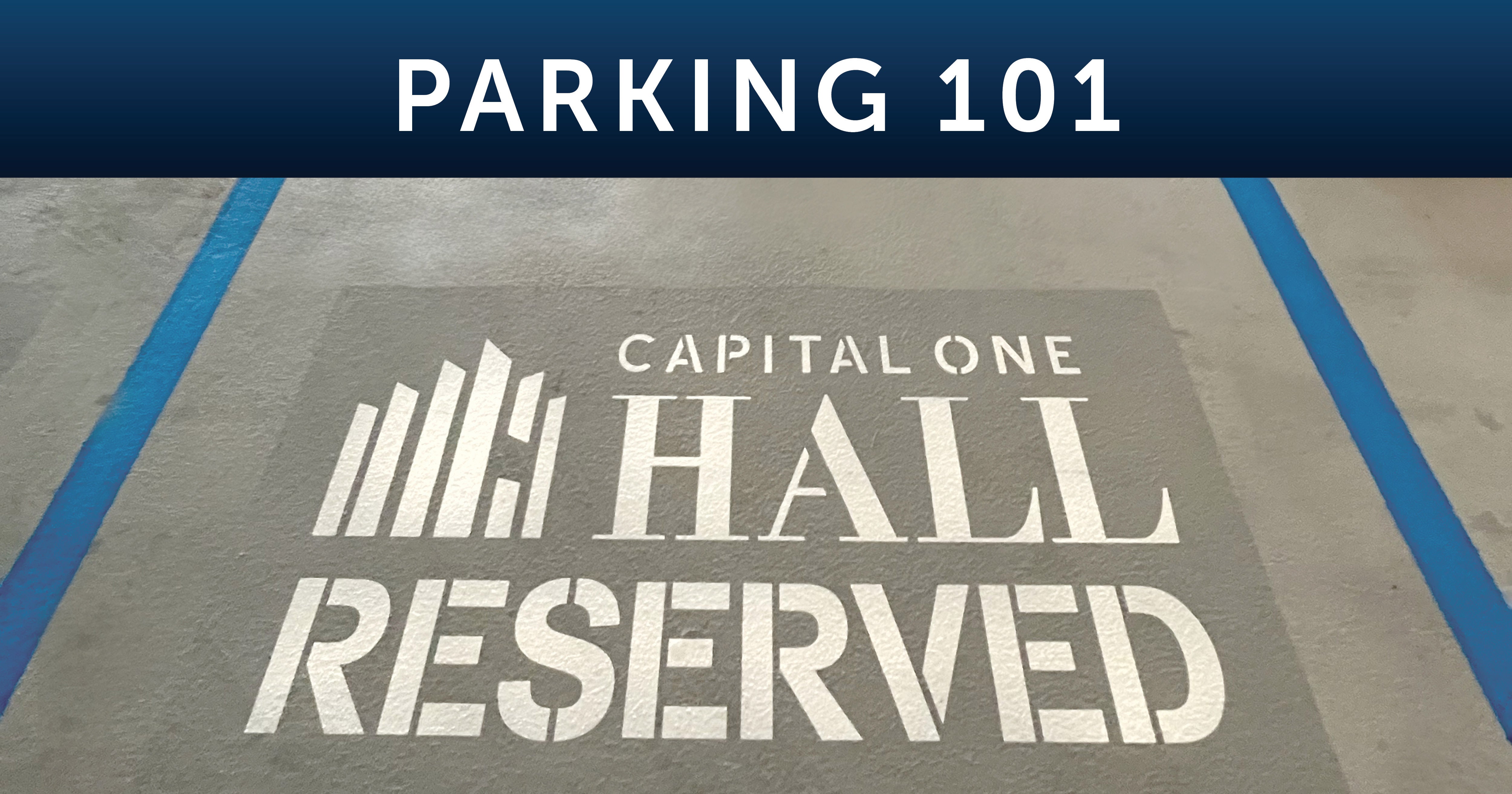 Visiting Capital One Hall in Tysons, VA for the first time? Whether you're coming for a comedy special, Broadway show, or concert, you're in for a special night.
But, first, you have to get here. Arriving at a new place for the first time can be tricky, and we want to make sure your experience at Capital One Hall is seamless. So we're walking through the questions we receive most often from guests coming to Capital One Hall, and, yes, even giving you a few tips to navigate that notorious Tysons traffic!
When should I arrive at Capital One Hall?
Doors open 60 minutes before shows and there are food and beverage options on site. Volume can be high in the parking garage, so get to Capital One Hall early to give yourself plenty of time to park, go through security, scan your ticket, and find your seat. Grab a snack, sip on a drink, then settle in for a fabulous show.
How do I purchase parking?
The most effective way to begin your visit to Capital One Hall is to line up your parking before you drive through the parking garage doors. When you check out on Ticketmaster, you'll see an option to add on parking for pre-purchase. General parking is $15, while Premium parking is $45 — and we'll explain those in a minute.
Missed the pre-purchase option during checkout? Don't worry! You can also buy parking ahead of time on our Ticketmaster page by looking for the show you're attending and purchasing there. If you don't remember until the night of the show, you can also purchase parking on site using a credit card. However, if you want Premium parking, keep in mind that it often sells out ahead of time.
What is the difference between Premium parking and General parking?
One of the most frequently asked questions is, what's the difference between Premium parking and General parking at Capital One Hall? Besides the price, there are several key differences (and Premium often sells out!).
General Parking at Capital One Hall
General parking is first come, first serve parking throughout the Hotel & Events garage.
Once you've parked, you'll take the elevator to the street level and follow the signs outside the elevator banks. Be sure to note which elevator you take as it's easy to get turned around!
These will then take you around the corner and to the main entrance, where you won't be able to miss the Capital One Hall sign and the bright lights of the box office and the marquee.
Premium Parking at Capital One Hall
Think of Premium parking as the front door service option. You never have to step outside, and you will go directly from your parking spot to the venue's Atrium.
With Premium, Capital One Center Parking Attendants will greet you upon entry into the garage, and you'll present your Premium Parking ticket via the Ticketmaster App. You'll then receive a physical pass from the attendant, who will direct you to Level 5/Purple. At that point, the next attendant will guide you to a Capital One Hall Reserved Premium Parking spot.
Once you've parked, you'll proceed to the door to the left of the North Elevator Bank on Level 5/Purple for expedited entry directly into the venue via the atrium.
Note: if you see a sign for The Watermark Hotel, you're at the South Elevator Bank rather than the North!
How do I find the parking garage?
Of course, to reach any of these parking options, you first have to find the garage! One common mistake we see is guests navigating to the venue address rather than the parking garage address.
The parking garage address for Premium and General parking is 1625 Capital One Drive North, Tysons, VA 22012.
If you've gone to 7750 Capital One Tower Road, Tysons, VA 22012, you're in the right place for the show, but not for parking.
It's also easy to end up at the Wegmans parking garage on Scotts Crossing Road. If you see Wegmans on the sign, you're in the wrong place. Our garage is on Capital One Drive North and is labeled Hotel and Event Parking. If you drive in and see two colorful, whimsical murals, you've arrived and you're ready for a magical evening ahead.
Don't feel like parking at all?
There are also lots of other options to arrive at Capital One Hall. You can take the Silver Line to McLean Metro Station, located along Dolly Madison Boulevard (Route 123) and accessible from Scotts Crossing Road. You can also take the metro bus from McLean Metro Station. ​​We offer public bike storage on the B1 level in the Wegmans and retail parking garage off Capital One Drive South. And, we make it easy for rideshare drop-off at 7750 Capital One Tower Road, Tysons, VA 22012 and pick-up at the corner of Capital One Drive and Scotts Crossing Road.
We can't wait for you to visit us at Capital One Hall! Check out our list of upcoming shows and events at our website. See you soon!