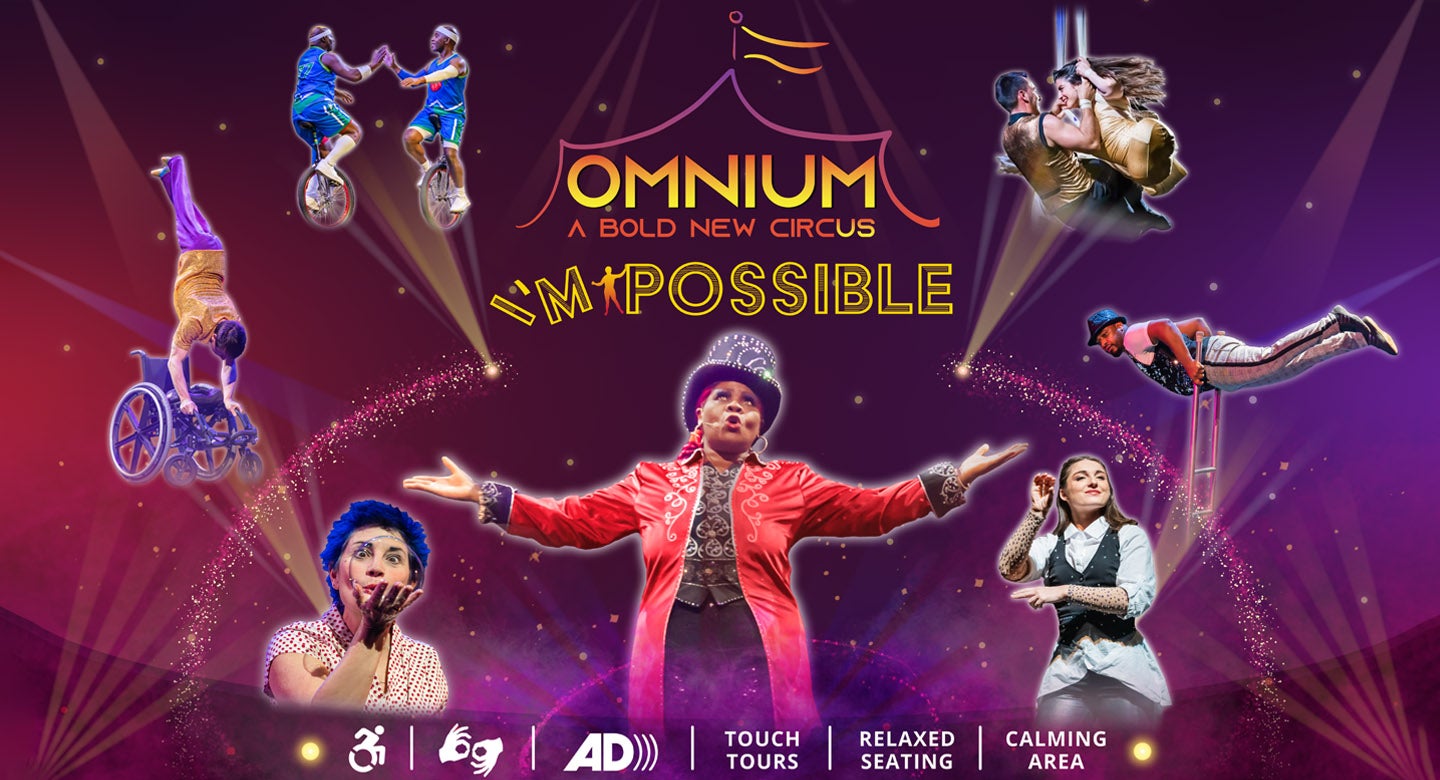 Omnium Circus presents I'mPossible
Date

February

24

, 2024

Doors Open

1:00 PM

Venue

Main Theater

Ticket Prices

Tickets start at $39

On Sale

On Sale Now
Event Details
Welcome to the Spectacular Omnium Circus where anything is possible!
Aerial artists soar over the stage making your heart pound with excitement. Hilarious antics make you laugh till you cry! ," Featuring a diverse mosaic of brilliant performers including gravity-defying aerial acts, mind blowing contortion, unbelievable acrobatics, hysterical comedy, dazzling dancers and much more. Fun for the entire family!
It's a circus adventure where there are no limits, no boundaries, and no barriers. Omnium is the only circus in the world to be presented bilingually in English and American Sign Language. Unprecedented audience accessibility including live audio description, tactile experiences, relaxed seating for neurodiverse and sensory sensitive audience members and other accommodations truly make Omnium a live experience that has been specifically created to be enjoyed by all.
"We saw the fabulous, fully inclusive Omnium Circus performance at Tyson's Corner, VA, involving performers and audience of all abilities and disabilities to enjoy!" – Judy Woodruff
Come and join us for a show you will never forget!
A hispanic-italian woman wearing a gray outfit using multiple parts of her body to hula hoop with 6 rainbow colored hula hoops, each illuminated with LED lights.
An aerial artist soars high above the stage holding on to a rope, while the other performers look on with excitement.
Rik Daniels performing on stage; he is wearing a sparkly gold shirt with purple pants. He is hand standing on his wheelchair with his legs vertically above him.
Two clowns on stage play with bubbles; one makes a MASSIVE long bubble as the other looks on with wide eyed amazement, their mouth wide open with awe.
A man dressed in black aims a crossbow towards an apple that is on top of a woman's head, She is dressed in a black dress and standing in front of large red and white target.
The entire Omnium company of performers takes a final bow in front of a packed audience at Capital One Hall.
A woman without legs is performing a handstand on a brightly decorated wheelchair while a man who is lying on the ground beneath her is supporting golden aerial silks .
You Might Also Like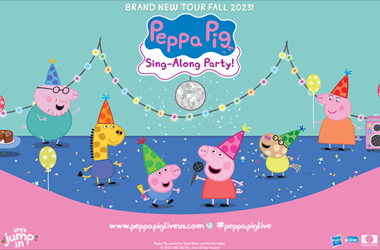 December
17
, 2023
Doors: 1:00 PM
presented by Outback Presents
Capital One Hall
Event Starts
2:00 PM