Broadway is Back in Tysons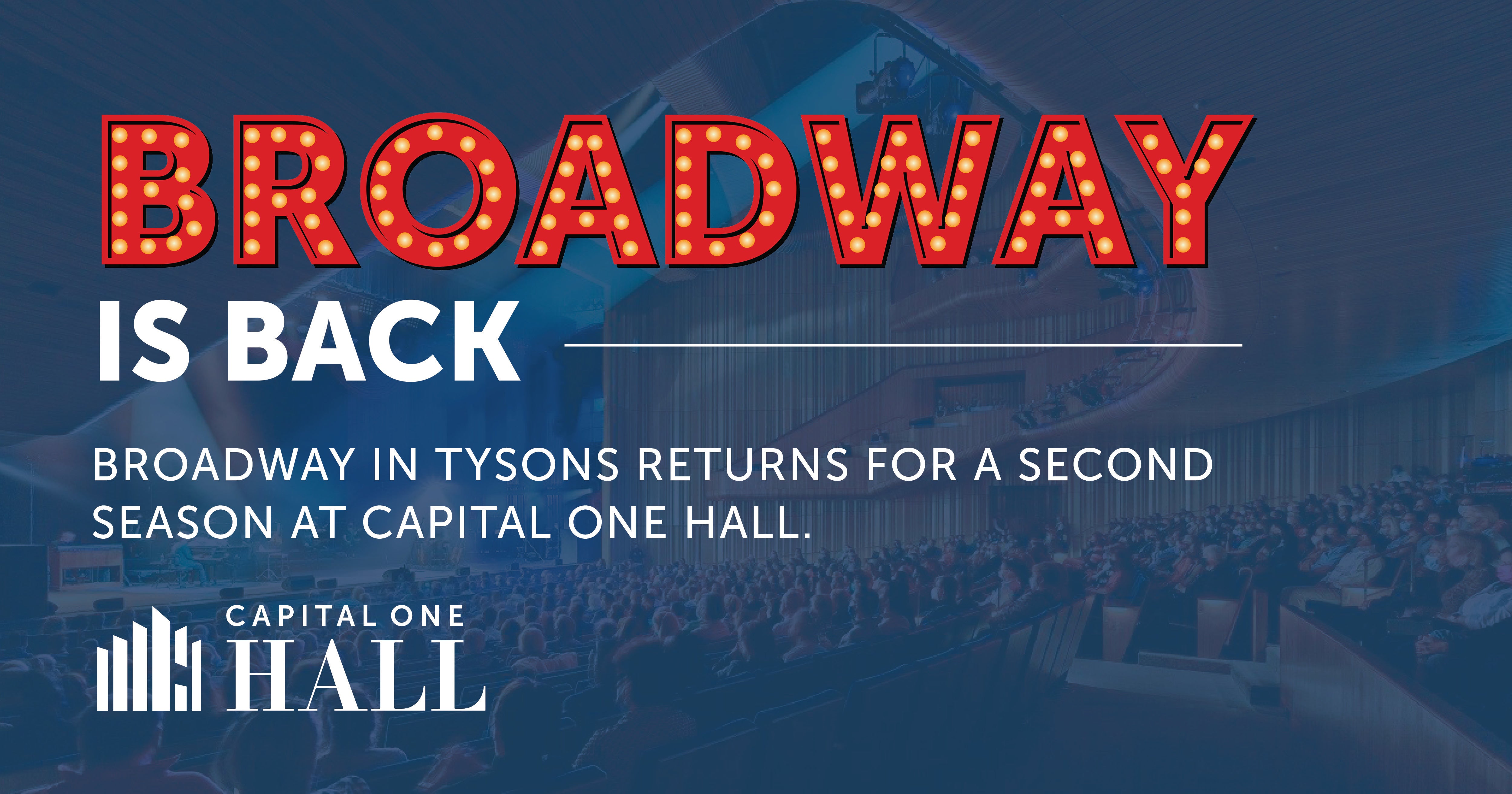 The Dos and Don'ts Plus Tips to Attending a Broadway show at Capital One Hall
Broadway in Tysons at Capital One Hall is back for a second season! With a schedule you won't want to miss, a location you can't beat, and a venue that wows, go ahead and select your seat and plan for a one-of-a-kind experience at Broadway in Tysons, VA.
We've created a list of dos and don'ts to ensure you make the most out of your time at Broadway at Capital One Hall. While at our core we are a performing arts venue, we offer so much more including food and beverage, photo ops for the perfect selfie and a subscription option that includes four shows! Check out the list below before planning your night out:
Do Make Sure to Eat [With Us!] Before
Kick-off the perfect night out in Tysons with Capital One Hall's preshow dinner, The Opening Act. Here you will enjoy a three-course dining experience curated by our Executive Chef, Linton Romero.
Don't Forget to Order an Intermission Beverage
Skip the lines and take advantage of pre-ordering your intermission beverage through the mobile Tapin2 link: https://mobile.tapin2.co/574.
Do Make Sure You Take a Selfie
Capital One Hall is full of Facebook and Instagram worthy photo ops! A few that can't be missed are the show stopping gold wall across from the box office, Broadway in Tysons at Capital One Hall's step and repeat, and of course a balcony shot with the stage as your backdrop. Don't forget to tag us on Facebook, Instagram, or even TikTok!
Don't Use Your Phone During the Show
It's always tempting to pull out your phone to check a text, but please don't! The light can be distracting to your neighbors. Also remember to put it in silent or do not disturb mode to ensure it does not ring in the middle of the performance!
Do Make Sure to Read the Program
While the lights are up, check out the show program to see which actors are playing what roles, length of acts, intermission timings and more.
Don't Forget to Take Your Program Home
Keeping your program is a great way to remember a fun night. Keep it somewhere visible as it makes for a great conversation starter when guests come to visit.
Do Download the Soundtrack
What better way to prepare for the show than to download the soundtrack? Take advantage to learn some of the songs ahead of time and watch them come to life on stage.
Don't Be Late
Please be on time! Make sure you allow yourself plenty of time to grab a drink and settle in before the show starts - we suggest 45 minutes prior. Arriving after showtime is a disturbance to the actors on stage and fellow patrons.
Do Make Sure You Become a Broadway in Tysons Subscriber
Season subscriptions are on sale now! As a subscriber, you'll save on single ticket prices, secure the same seat for the entire season and have priority when it comes to renewing. To purchase a season subscription, visit: CapitalOneHall.com.
Don't Miss Out on Broadway in Tysons at Capital One Hall as it Returns for the 2022-2023 season
We are so excited for this season's schedule and can't wait to experience it with you all. The individual tickets for Broadway in Tysons, will be released in mid-September. Subscribe to your newsletter here to be the first to know when they're released.
Broadway in Tysons at Capital One Hall includes the following performances:
Tootsie | November 25-27, 2022
Call it "musical comedy heaven" (Rolling Stone). Call it "the most uproarious new musical in years!" (The Hollywood Reporter). Call it TOOTSIE! This laugh-out-loud love letter to the theater tells the story of Michael Dorsey, a talented but difficult actor who struggles to find work until one show-stopping act of desperation lands him the role of a lifetime. Featuring a hilarious Tony®-winning book by Robert Horn and an outrageously clever score by 2018 Tony-winner David Yazbek (The Band's Visit, Dirty Rotten Scoundrels), this New York Times Critic's Pick is "a joyful delight" (The Washington Post) that's "so packed with punchlines, it should be called a jokebox musical!" (Bloomberg). "In these turbulent times, when the world seems out of balance, we need a place to let the good times roll," raves Rolling Stone. "TOOTSIE is it!"
Hairspray | January 20-22, 2023
You Can't Stop the Beat! HAIRSPRAY, Broadway's Tony Award-winning musical comedy phenomenon is back on tour! Join 16-year-old Tracy Turnblad in 1960's Baltimore as she sets out to dance her way onto TV's most popular show. Can a girl with big dreams (and even bigger hair) change the world?
Featuring the beloved score of hit songs including "Welcome to the 60's," "Good Morning Baltimore" and "You Can't Stop the Beat," HAIRSPRAY is "fresh, winning, and deliriously tuneful!" (The New York Times).
This all-new touring production reunites Broadway's award-winning creative team led by Director Jack O'Brien and Choreographer Jerry Mitchell to bring HAIRSPRAY to a new generation of theater audiences.
Don't miss this "exhilaratingly funny and warm-hearted musical comedy" (The New Yorker).www.hairspraytour.com
Anastasia | February 3-5, 2023
Inspired by the beloved films, the romantic and adventure-filled new musical ANASTASIA is on a journey to Tysons, VA at last!
From the Tony Award®-winning creators of the Broadway classic Ragtime, this dazzling show transports us from the twilight of the Russian Empire to the euphoria of Paris in the 1920s, as a brave young woman sets out to discover the mystery of her past. Pursued by a ruthless Soviet officer determined to silence her, Anya enlists the aid of a dashing conman and a lovable ex-aristocrat. Together, they embark on an epic adventure to help her find home, love, and family.
ANASTASIA features a book by celebrated playwright Terrence McNally, a lush new score by Stephen Flaherty (music) and Lynn Ahrens (lyrics) based on original direction by Tony Award® winner Darko Tresnjak with choreography by Peggy Hickey and tour direction by Sarah Hartmann.
R.E.S.P.E.C.T.* | March 22, 2023
The electrifying show RESPECT journeys through Aretha Franklin's courageous life of love, tragedy and triumph, while showcasing her greatest hits over the last 50 years!
Starring Australia's 'Soul Mama', Angie Narayan, RESPECT is a masterful piece of storytelling about family, loyalty and victory, layered with glorious harmonies and sassy repartee. Joining Angie on stage are accomplished vocalists and actors, Ezekiel Narayan, Asabi Goodman and Shelley Davies, together with an energetic band!
ACT ONE begins with a bang in the 1960s, taking you back in time where Aretha's career all began. Introduced to Aretha's family, you explore her childhood, the church, meeting her Manager/ Husband, the Civil Rights Movement, her biggest musical crush and the profound impact the song RESPECT had on the world! 'Natural Woman', Say A Little Prayer' and 'Son of a Preacher Man' are just a taste of Aretha's classics you can expect!
ACT TWO starts off in the 70s, which was a rather turbulent decade with bombed albums, failed relationships and family tragedy. Moving into the 80s, 'Sisters are Doin it for Themselves', 'Freeway of Love', 'Everyday People' are just some of the hits guaranteed to have you up dancing out of your seat! There is one big surprise near the end of the show that no one expects but has people literally in tears!
Hold on to your seat as you journey into this earth-shattering Aretha experience that is RESPECT!
*R.E.S.P.E.C.T. is available as an add-on to Season Subscriptions
On Your Feet! | April 21-23, 2023
HER VOICE. HIS VISION. THEIR STORY.
ON YOUR FEET! is the inspiring true story about heart, heritage and two people who believed in their talent—and each other—to become an international sensation: Gloria and Emilio Estefan. Now their story is an all-new exhilarating original musical winning the hearts of critics and audiences alike, with the Chicago Tribune declaring "IT'S A HIT!" and The New York Times cheering, "The very air in the room seems to vibrate in this undeniably crowd-pleasing musical!"