2022 Memories at Capital One Hall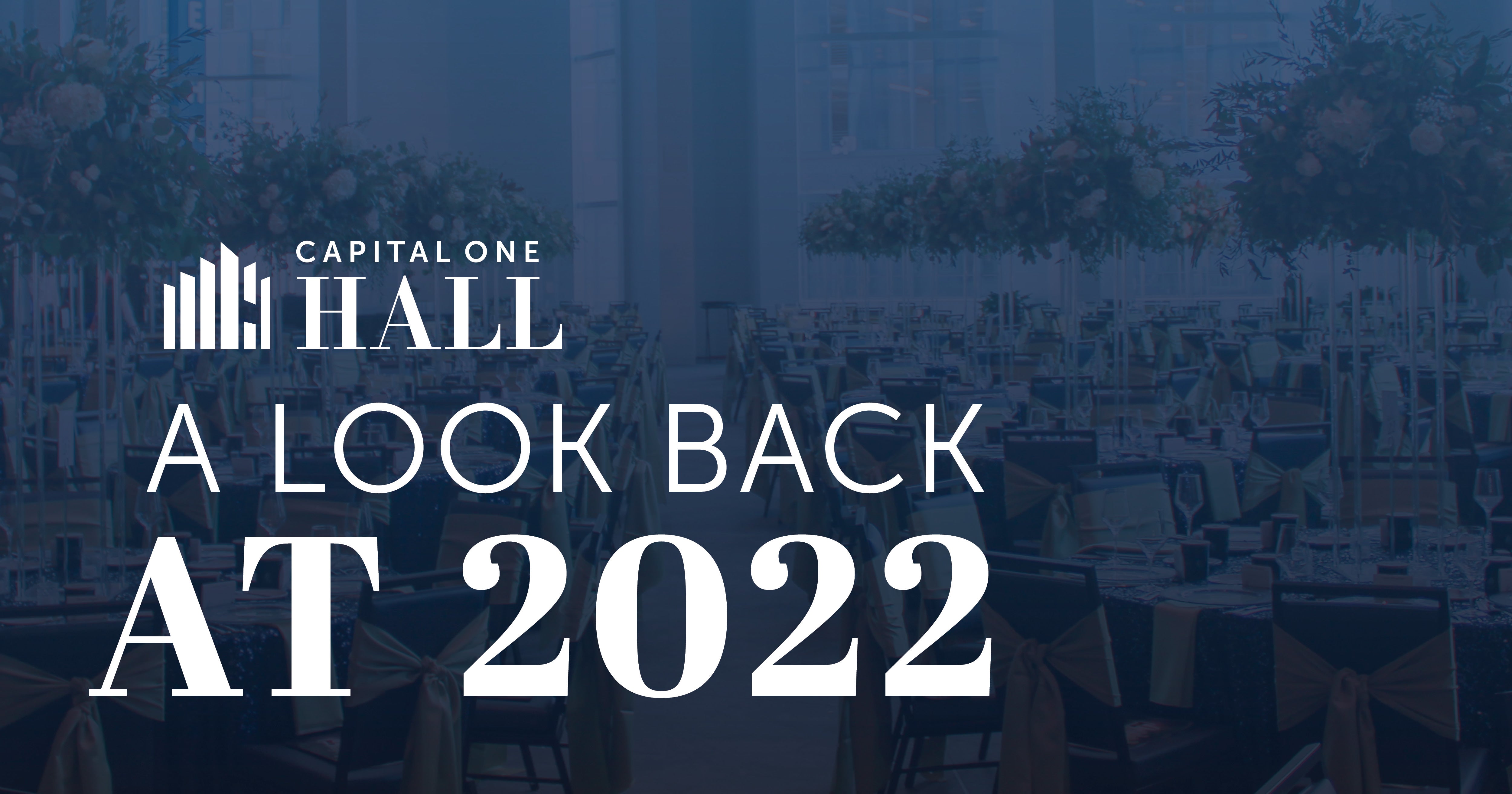 Creating and making lasting memories is an intrinsic part of life experience. We are honored to be able to help curate and facilitate so many incredible memories for both our guests and the Capital One Hall team. As we wrap up 2022 and look ahead to all the incredible things to come in 2023, we wanted to take a look back at some of the stand out memories and moments of this year.
Our First Anniversary celebration with performances by Sublime with Rome and FeelFree.
Partnering with our friends at Perchfest and meeting so many incredible visitors during their events.
Celebrated the growth of our incredible partnership with ArtsFairfax. Shout out to them for being awarded the Jinx Hazel Arts Award!
130+ collective shows in The Main Hall and The Vault
Prepared and packaged over 650 power packs at Food For Others
Harvested over 650 lbs of organic produce for the nonprofit, JK Community Farm
Released our much-anticipated VIP Parking at Capital One Hall
We owe much of our success to our dedicated Capital One Hall team members and volunteers, so we asked them to describe their favorite 2022 Capital One Hall experience:
Toly, Operations Team:
Meeting amazing people! It's truly an honor to work with the Capital One Hall team every day. The venue is amazing and it's always a very exciting experience to be able to see tours come in. Overall, it's the people who work here that have made 2022 so memorable for me.
Carter, Community Events & Booking Coordinator:
For me, it has to be the one-year anniversary show with Sublime with Rome. From start to finish there were so many incredible moments throughout the show that I'll never forget. There was an unmatched level of energy that we hadn't had at The Hall yet and it was so great to be a part of it for the one-year anniversary!
David, Usher:
When I think about great moments at Capital One Hall in 2022 the first thing that comes to mind is the wonderful team. From the volunteers to the staff, I've met some pretty great individuals. It has made my time so far something that I'll continue to cherish.
Dennis, Usher:
My favorite memory of 2022 at Capital One Hall? Easy! The Boz Scaggs show!
Fran, Usher:
I had so many favorite moments which makes it hard to pick just one - so I won't! Starting at the beginning of the year Russell Peters, I love comedy and he was extremely funny and put on a great show. In February, Capital One Hall hosted Omnium Circus which was an all-inclusive, accessible circus. It was an amazing performance, and it was so good to see kids just having fun. To wrap up the year it has to be the Capital One Hall Broadway Series Fiddler on the Roof. That show means a lot to me. I have such good memories of my parents and childhood whenever I hear their songs. I was fortunate enough to work all the shows and I will always be thankful for that flashback in time.
Sanjiv, Usher:
I will never not love meeting anyone whose first time it is to Capital One Hall. Their reaction is always so genuine and excited - it almost makes me feel like I'm experiencing The Hall for the first time again too!
Lauren, Marketing:
My favorite Capital One Hall memory of 2022 is a tie between Alton Brown's Behind the Eats Tour and Anthony Hamilton's performance at A Very Merry CAYA Christmas! I grew up watching Alton Brown with my dad, so it was really cool to see a piece of my childhood come to life on stage. As for Anthony Hamilton, the energy at that show was just electric! Between his performance and the crowd's reaction to him, you could feel the love from each and every person.
Cristina, Marketing:
One of my favorite Capital One Hall memories of 2022 was watching the legendary Martina McBride play to a sold-out crowd in early December. She is a powerhouse female country singer who I have admired since I was a little girl - seeing her perform for the first time on our stage in such an intimate setting was very special.
We want to thank our patrons, performers, partners, team members, and volunteers who have supported us throughout 2022. As Tysons' premier performing arts venue, we appreciate your commitment to attending shows, spreading the word, and of course, making memories with us that will last a lifetime. We look forward to more singing, dancing, and laughing in 2023! If you're still looking for a last minute gift, tickets to an upcoming show will surely be loved by many, take a look at our calendar here. Cheers to the incredible year we had and to the new year ahead of us all!