Celebrate the Holidays at Capital One Hall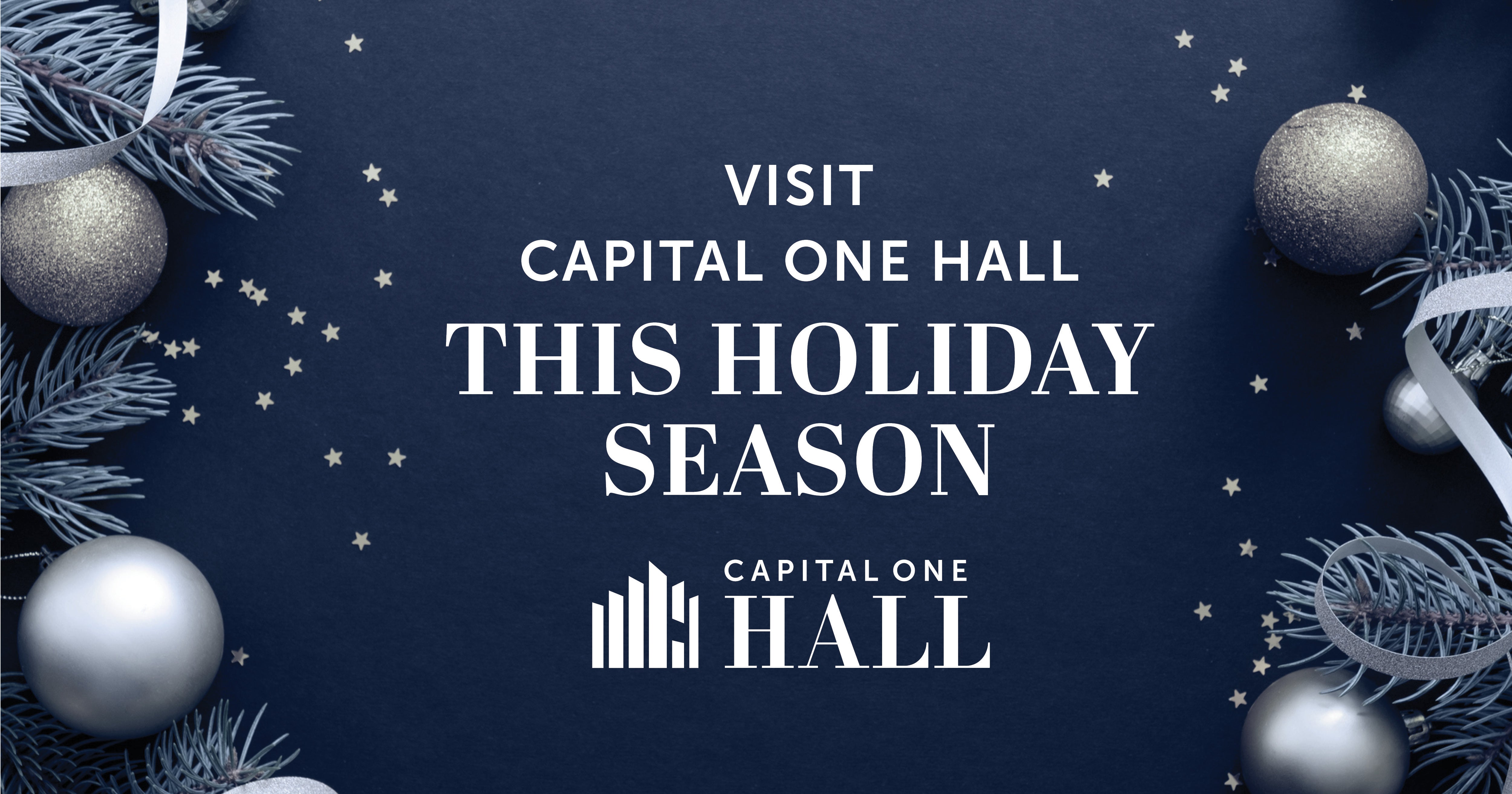 Celebrate the Holidays at Capital One Hall
Time to deck the halls - the holiday season is now upon us! The team at Capital One Hall is more excited than ever for the holidays and with all the shows and decorations, we are feeling merry and bright. If you're looking for the best way to spend the holidays with your loved ones and ensure they're entertained, you're in the right place. Take a look at everything Capital One Hall has in store.
Decorations to Knock Your Bells Off
One of the best ways to get into the holiday spirit is by surrounding yourself with beautiful decorations, and at Capital One Hall, we've come prepared. Our exterior features 133 feet of garland and is watched over by a 13 ft nutcracker so every passerby can have an extra dose of holiday cheer! When you walk inside Capital One Hall, you'll see three larger-than-life gifts just waiting to be given and over 700 ft of garland on the grand staircase and balconies. As you enter the atrium, you'll be greeted by a 9 foot Menorah and Christmas tree standing at 24 feet tall and 13 feet wide, creating a perfect backdrop for a photo!
Santa Brunch for the Whole Family
The holiday fun doesn't stop there though. On Sunday, December 11th, The Watermark Hotel will be hosting a festive brunch buffet with the man himself - Santa Clause! Reservations are available between 11am and 2pm, but trust us, this event will fill up fast (make yours here). Our menu has been cheerfully created by our Executive Chef Yo Matsuzaki and features his own twist on the southern classic, chicken and waffles. Drinks will include La Colombe coffee, Forte tea and hot cocoa with marshmallows. For the adults, there will be mimosas, bellinis and a build your own bloody mary bar, available for purchase. Santa will be sure to swing by for a special visit, and you can even purchase a photo package to save this memory for years to come. Make an afternoon out of it and grab tickets to see the Ravel Dance Company's production of The Nutcracker at 2pm, tickets can be purchased here.
Shows Galore
A season at Capital One Hall wouldn't be complete without a full calendar of shows for every audience, and the holidays are no exception. Check out our December line-up below to learn more about all of the exciting performances happening soon.
Dave Koz And Friends 25th Anniversary Christmas Tour: Monday, 12/5 - doors open at 6:30pm - Check out platinum-selling artist Dave Koz and his guests for an evening of smooth jazz with your favorite music lover.
Christmas Misfits: A Drag Holiday Extravaganza: Thursday, 12/8 - doors open at 7:00pm - Grab your friends and ring in the holidays with drag icons and RuPaul alumni Violet Chachki, Gottmik, Detox and Latrice Royale.
Ravel Dance Presents Nutcracker: Sunday, 12/11 - doors open at 1:00pm - Ready to introduce your little ones to this Christmas ballet classic? Check out this beautiful show after your trip to see Santa at The Watermark Hotel.
Michael W. Smith Christmas: Monday, 12/12 - doors open at 6:00pm - Enjoy a calming and reverant evening about the meaning of the Christmas season with Michael W. Smith and his guest Michael Tait.
Nutcracker! Magic Of Christmas Ballet: Wednesday, 12/14 - doors open at 6:00pm - Another incredible chance to see the beauty of The Nutcracker in this rendition which features acrobatics, puppetry and stars of the Ukraine ballet. This performance will be your favorite if you consider yourself a Nutcracker traditionalist.
A Very Merry CAYA Christmas Ft. Anthony Hamilton: Sunday, 12/18 - doors open at 5:00pm - CAYA or "Come As You Are" is the theme of this Christmas celebration courtesy of Alfred St. Baptist Church. Grammy winner Anthony Hamilton makes this an unforgettable night.
Joy To The World! Jenny Oaks Baker & Family Four Ft. Alex Sharpe: Monday 12/19 - doors open at 6:00pm - A performance unlike any other, bring your live band fans for dance, song and choral performance featuring Alex Sharpe, formerly of Celtic Woman and the Washington DC Temple Choir. Jenny Oaks Baker and Family Four are putting together quite the evening.
Virginia National Ballet's Nutcracker: Thursday 12/22 - doors open at 6:00pm - Our final Nutcracker performance of December is geared for dance enthusiasts. Join the Virginia National Ballet for their 10th season!
NatPhil Presents Handel's Messiah: Friday, 12/23 - doors open at 6:30pm - Choral fans unite! Nothing quite says Christmas like a performance of Handel's Messiah, especially when performed by a group as talented as the National Philharmonic.
We look forward to seeing you this festive season! To see our full lineup and purchase tickets, visit us here. If you're still searching for that perfect holiday gift, Give the Gift of Broadway! With four amazing shows left this season, Hairspray, Anastasia, R.E.S.P.E.C.T. and On Your Feet!, there is something for everyone. For more information on Broadway in Tysons, visit us here.